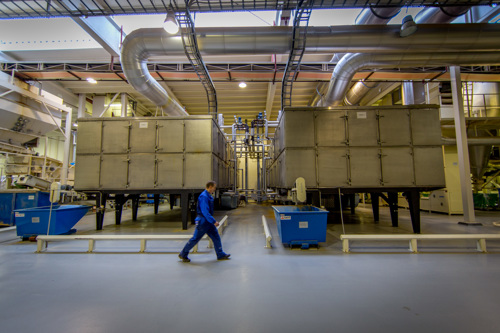 Havsbrún was the first fish meal and fish oil factory in the world to produce fish feed. In Europe, we are still the sole producer. Approximately 50% of the fish feed consist of fish meal and fish oil that is produced locally in Havsbrún's own fish meal production plant.

Our fish meal and oil is produced from only the finest raw material. From the start, we demanded high quality raw material and made no compromise at the quayside. Our continuous technological development and our targeted quality assurence program, coupled with our excellent co-operation with international research institutions, have enabled Havsbrún to gain international recognition as an advanced fish meal and fish oil production pompany. 

As producers of our own quality fish feed raw material, Havsbrún is uniquely situated to select the very best meal and oil for its feed production. Moreover, the meal and oil in the fish feed we produce comes from the very same species of fish on which wild ocean salmon feed. This fact alone framatically enhances and assures the best possible growth conditions for the fish farming industy. All feed from Havsbrún is NON GMO.